Hola!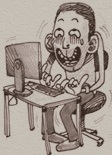 I love creating 2d or 3d images, animations, and programming all kinds of stuff, specially graphics. I'm working in animation films and visual effects since 2004, at nice studios with great talented people.
Here you can see some of my previous works. I hope you enjoy the visit, and have a nice day!
Greetings,
Diego
Contact
You are welcome to use this form, or just E-Mail me to:  
diego -at- feiss.be
Share this website on
C.V.
Client list