Hola!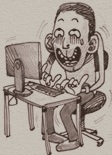 I love creating 2d or 3d images, animations, and programming all kinds of stuff, specially graphics. I worked in animation films and visual effects since 2004, and now I'm more focused in realtime graphics and Virtual Reality.
Here you can see some of my previous works. I hope you enjoy the visit, and have a nice day!
Greetings,
Diego
Contact
You are welcome to use this form, or just E-Mail me to:  
diego -at- feiss.be
Share this website on
C.V.
Client list